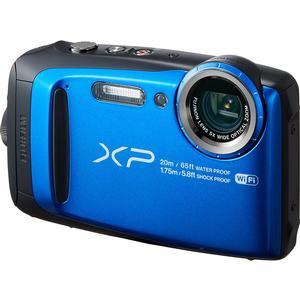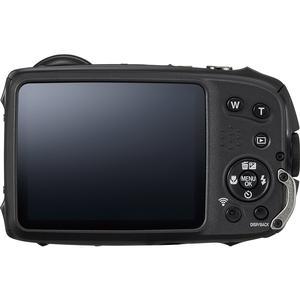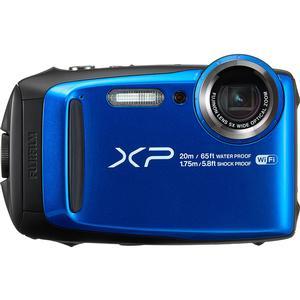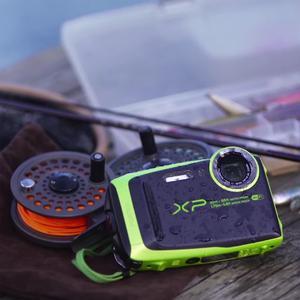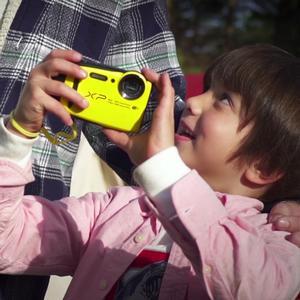 Fujifilm FinePix XP120 Shock & Waterproof Wi-Fi Digital Camera (Blue)

ITEM INCLUDES

Fujifilm FinePix XP120 Shock & Waterproof Wi-Fi Digital Camera (Blue) with:

NP-45S Li-ion Battery
AC Power Adapter
USB Cable
Hand Strap
Owner's Manual

Fujifilm FinePix XP120 Shock & Waterproof Wi-Fi Digital Camera (Blue)

The perfect companion for your active life.

The Fujifilm FinePix XP120 Shock & Waterproof Wi-Fi Digital Camera integrates four rugged protection features: waterproof to 65 feet (20m), freezeproof to 14°F (-10°C), shockproof to withstand drops from 5.8 feet (1.75m), and dustproof to keep out sand and other foreign particles. The camera is suitable for a variety of outdoor scenes. The widest setting of 28mm on the high-performance, versatile Fujinon 5x optical zoom lens is perfectly suited to close up action shots and beautiful natural scenes. Clear portraits are easy using the 5x optical zoom and you can get even closer using the 10x Intelligent Digital Zoom.

Thanks to the 16.4 megapixel BSI-CMOS sensor, even dark scenes can be captured in bright clarity. The camera automatically adjusts shooting settings according to the scene, and features 10 frames per second high-speed continuous shooting. Despite a larger 3-inch high-definition 920K-dot LCD monitor, the camera manages to maintain its compactness with a weight of approx. 6.4 ounces (203g).

The FinePix XP120 offers the all-new Cinemagraph mode, producing still images with moving elements. Moving elements make a stark contrast against the rest of the still image, where it looks as if time has been frozen, accentuating your intended theme effectively to capture people's attention. The camera supports direct wireless transfer of images to the instax SHARE printer for instant printout and sharing on the spot. Enjoy instax prints at parties or on vacations, and share them with your family and friends instantly.

Key Features:

4 Way Proof:
Take this camera on every adventure as it is waterproof to 65 ft. (20m), shockproof to 5.8 ft. (1.75m), freezeproof to 14°F (-10°C) and dustproof.

| | |
| --- | --- |
| | |
| WATERPROOF | SHOCKPROOF |
| | |
| FREEZEPROOF | DUSTPROOF |

Optical (Sensor-Shift) Image Stabilization:
Optical image stabilization reduces the blur that tends to occur when the camera is zoomed in.

28mm Wide Angle, 5x Optical Zoom & 10x Intelligent Digital Zoom:
The indomitable FinePix XP120 features an internal 5x optical FUJINON zoom lens (28-140mm), which means that you can zoom right up to the action, even underwater. The technology continues to impress with the added application of Intelligent Digital Zoom. The FinePix XP120 combines its 5x optical zoom with Intelligent Digital Zoom which results in double the zoom range (10x) while offering optimum image processing to counteract the degradation that has traditionally occurred when digital zooms are used.

16 million pixels BSI-CMOS sensor:
16 million pixels BSI-CMOS sensor makes even dark scenes bright for high-quality images.

SR AUTO:
Scene Recognition Auto ensures the optimum camera settings are always deployed for the best images of a given scene.

Fujifilm's Unique Color Reproduction:
When using our cameras underwater, Fujifilm's years of experience ensure that colors are reproduced exactly as they are seen by the human eye. Fujifilm's "Underwater" and "Underwater macro" modes are also designed to optimize image capture underwater.

Cinemagraph Mode:
The FinePix XP120 offers the all-new Cinemagraph mode, producing still images with moving elements. Cinemagraph is a novel photographic approach that makes an image look somewhere between a still and video to strongly capture people's attention. Record video of up to 5 seconds, and specify which elements you want moving, to easily create Cinemagraph with the specified elements in motion. The contrast between moving elements and the rest of the image in standstill, accentuates your intended theme effectively.

"Speed up time" with Built-in Interval Shooting Functions:
Interval Shooting mode lets you capture multiple images of a scene taken at set intervals. Capture a beautiful sunrise or clouds moving through the sky, and the new "Time-Lapse Movie" feature will automatically turn these image sequences into a movie clip showing the passing of time. Simply select "Still image + Movie" for interval shooting settings. Of course, the still images from the conventional interval shooting can also be saved. The speed can be altered by selecting the video frame rate from 10, 30, and 60fps, with multiple video sizes including Full-HD.

"Burst Mode Button" for Responsive, Hassle-Free Shooting:
Capture the action quickly and surely with continuous shooting toggle button. Continuous shooting at up to 10 frames/sec. (max. 10 frames) at full resolution. Ultra-high-speed bursts at a maximum 60 frames/sec. (max. 70 frames S 16:9 only).

Large 3-inch 920K-dot LCD Monitor:
Despite a larger 3-inch high-definition 920K-dot LCD monitor, the camera manages to maintain its compactness with a weight of approx. 203g. The LCD monitor also features an anti-reflective coating, assuring it's clear and easy to use, even in bright and sunny conditions. The brightness is automatically adjusted in response to the lighting conditions to maintain optimal visibility while preventing unnecessary battery drain.

Full HD Movie (1080p / 60 fps):
Thanks to the CMOS sensor, the FinePix XP120 can shoot 1920 x 1080-pixel full HD video. A dedicated movie recording button makes it easy to switch to movie recording mode with a single touch. 7 types of advanced filter can also be used in movie recording.

High Speed Movie:
Sometimes things happen too fast for you to see them properly with your own eyes. The FinePix XP120 can freeze the action at up to an amazing 320 fps! So you can see every single minute detail and watch things happening step by step in slow motion.

Scene Recognition:
Scene recognition is available during movie recording.

Movie Edit:
The camera also incorporates a number of advanced movie-editing features, including "movie trimming" to cut unwanted footage from movies, and "movie join" to join multiple separate clips into a single movie.

Noise Cancellation:
Noise cancellation eliminates the sounds made by the zoom lens during recording.

Wind Filter:
Wind noise is reduced during movie shooting with the wind noise reduction setting.

instax SHARE for Easy Prints and Instant Sharing:
The camera supports direct Wireless transfer of images to the instax SHARE printer for instant printout and sharing on the spot. Enjoy instax prints at parties or on vacations, and share them with your family and friends instantly.

Photo Sharing on Smartphones:
Photos can be transferred to your smartphone or tablet by simply pressing the Wi-Fi button on the camera. There's no need to enter a user ID or password; this is an easy and convenient function for when you want to quickly share your pictures on social media or by email.

Remote Camera Operations:
Use the FUJIFILM Camera Remote app on your smartphone or tablet to remotely release the shutter, adjust zoom settings or switch the camera to the video recording mode. This function is useful for capturing wildlife, group photos and self portraits.

Stable One-handed Shooting:
The grip on the front of the camera and the thumb rest on the back of the camera ensure users to have a firm grasp of the camera.

Safe Double-lock Mechanism for Battery Compartment:
The extra safe double-locking system prevents the lid from accidentally being opened.

Advanced Filter:
A selection of 11 special filters lets you create distinctive photo effects. Filter effects can be verified on the LCD monitor to ensure you get exactly the results you're shooting for. 7 types of advanced filters can also be used in movie recording.

| | | |
| --- | --- | --- |
| | | |
| SKETCH | POP COLOR | TOY CAMERA |
| | | |
| MINIATURE | SOFT FOCUS | PARTIAL COLOR |
| | | |
| CROSS SCREEN | HIGH-KEY | LOW-KEY |

| | |
| --- | --- |
| | |
| DYNAMIC TONE | FISH-EYE |

Motion Panorama 360:
Select "Motion Panorama 360" mode, press the shutter button and sweep the camera to pan the scene. The FinePix XP120 cleverly produces a stunning 360° panorama shot, effortlessly and automatically!

Versatile Shooting Modes:
In addition to a wide range of shooting modes, the FinePix XP120 offers a selection of versatile scene positions that ensure optimum results no matter what the scene.

SR AUTO: Frame your shot and SR AUTO intelligently recognizes the scene and selects the ideal settings.
Action Camera: Record impressive photos and videos of your adventures in wide angle.
Natural Light & with Flash: Shoots 2 images continuously, without flash and with flash. Comes in great handy during marginal shooting situations.
Advanced: Take special images with checking effects by various filters
Night: Mode for shooting evening and night scenes. A picture is taken with a slow shutter.
Snow: Most adaptable to snow scenes without unnatural darkened images or where the whole screen appears white.
Underwater (Macro): Capture the underwater subjects up close with clarity and in eloquent colors.
Text: Clear shots of letters on a document or white board.
AUTO: The easiest mode for taking pictures. Use this for ordinary photography.
Pro Low-light: Choose for shooting a subject under low light or a still subject by using the telephoto zoom.
Portrait: Set for shooting portraits. Skin tones are softened as it enhances the overall natural look.
Motion Panorama 360: Sweep the camera right or left to create panoramic image.
Night (Tripod): Clear shots of twilight scenes using tripod.
Beach: Clear shots of people without darkened images under strong sunlight.
Party: Best for shooting indoor weddings or parties. Retains the natural ambiance in low-light conditions.
Program AE: An automatic mode to set the white balance and exposure.
HDR (Dynamic Range): Each time the shutter button is pressed, the camera takes a series of shots, each with different exposure. These are combined into a single image, preserving detail in highlights and shadows.
Landscape: Best for shooting scenery in daylight capturing clear and sharp shots of buildings and mountains effectively.
Sport: A quick recognition of persons in motion or objects for a faster shutter speed to help you catch the perfect moment.
Sunset: Capture sunset scenes vivid in color.
Underwater: Best for shooting underwater capturing clear images of the ocean blue.
Flower: Capture a clear close-up shots of blooming flowers rich in color.




Tracking Auto Focus:
Keeps fast moving subjects in the frame and in focus, even at 5x zoom extended. Great for capturing dynamic close-ups.

Pro Low-light Mode:
Ideal for shooting non-moving subjects in low light, this mode automatically takes a series of four high-sensitivity & low-noise exposures and then combines them into an image with less noise than the single exposures.

Dynamic Range (HDR):
This mode uses Multi Frame technology to capture three consecutive photos shot at high speed-under-exposed, normal exposure, and over-exposed. The three images are then layered to an optimum balance of detail in shadow and highlights, eliminating "blackout" or "washout" and producing pleasing, natural gradations.

Natural Light and with Flash:
Can't decide whether it's best to use flash? Choose this mode, press the shutter and automatically capture the same scene twice: once with high sensitivity and natural light, and the second time with Intelligent Flash. Later choose one or keep both!

MyFinePix Studio:
The MyFinePix Studio is the image viewing software bundled with FinePix XP120. You can easily manage, view and print many images.

Face Detection:
Face Detection optimizes people pictures by identifying faces and adjusting focus and exposure to ensure bright, clear results.

Red-eye Removal in Detected Faces:
Red-eye removal automatically detects and corrects flash reflection for a perfect end result.

Instantly Detect up to 10 Faces:
The Face Detection can simultaneously recognizes up to 10 faces in a photo. Share your group portraits using the zoom up function in playbacks, checking each detected face. Each priceless expression can be cropped and saved in clear high resolution results.

Face Detection Timer Function:
The Face Detection Self-timer automatically sets off after the number and position of faces in a scene are detected, snapping the photo at the right moment, with the faces in focus and properly exposed.
23 accessories found for Fujifilm FinePix XP120 Shock & Waterproof Wi-Fi Digital Camera (Blue)
Fujifilm FinePix XP120 Digital Camera
– TECHNICAL SPECIFICATIONS –
---
Effective Pixels:
16.4 MP
Total Pixels:
16.76 MP
Sensor Type:
CMOS
Sensor Size:
1/2.3"
Image Sizes:
L : (4:3) 4608 x 3456 / (3:2) 4608 x 3072 / (16:9) 4608 x 2592 / (1:1) 3456 x 3456
M : (4:3) 3264 x 2448 / (3:2) 3264 x 2176 / (16:9) 3264 x 1840 / (1:1) 2432 x 2432
S : (4:3) 2048 x 1536 / (3:2) 2304 x 1536 / (16:9) 1920 x 1080 / (1:1) 1728 x 1728
Movie:
Movie File Format: MOV
Movie Video Compression: H.264
Audio: Linear PCM Monaural
Available Video Resolutions:
Full HD 1920 x 1080 60p / 30p (max 29 min)
HD 1280 x 720 60p
640 x 480 30p
Lens Type:
Fujinon 5-25mm (35 mm equivalent: 28-140mm)
Optical Zoom:
5x
Intelligent Zoom:
2x
Image Stabilization:
OIS
Focus Range:
Normal
Wide: 1.9 ft. to infinity (60cm to infinity)
Telephoto: 3.2 ft. to infinity (1.0m to infinity)
Macro
Wide: 3.5 in. - 6.5 ft. (9cm - 2.0m)
Telephoto: 3.2 ft. - 9.8 ft. (1.0m - 3.0m)
ISO Sensitivity:
Auto, ISO 100-6400
Aperture Range:
Wide: f/3.9 - f/6.2
Telephoto: f/4.9 - f/8.0
Monitor Type:
LCD
Monitor Size:
3.0"
Monitor Resolution:
920,000 pixels
Flash:
Built-in
Wi-Fi:
IEEE 802.11b / g / n (standard wireless protocol)
Storage:
SD / SDHC / SDXC memory card
Power Source:
NP-45S Lithium Ion Rechargeable Battery
Interface:
Micro USB 2.0 High-speed
HDMI Micro connector (Type D)
Dimensions (WxHxD):
4.3 x 2.7 x 1.0 in. (109.6 x 71.0 x 27.8mm)
Weight:
7.1 oz. (203g) (including battery and memory card)
Other Functions:
Dustproof: IP6X
Waterproof: IPX8 (up to 20m, within 120min.)
Anti-shock: Method: MIL-STD-810F-516.5 Fuji's standard: 1.75m